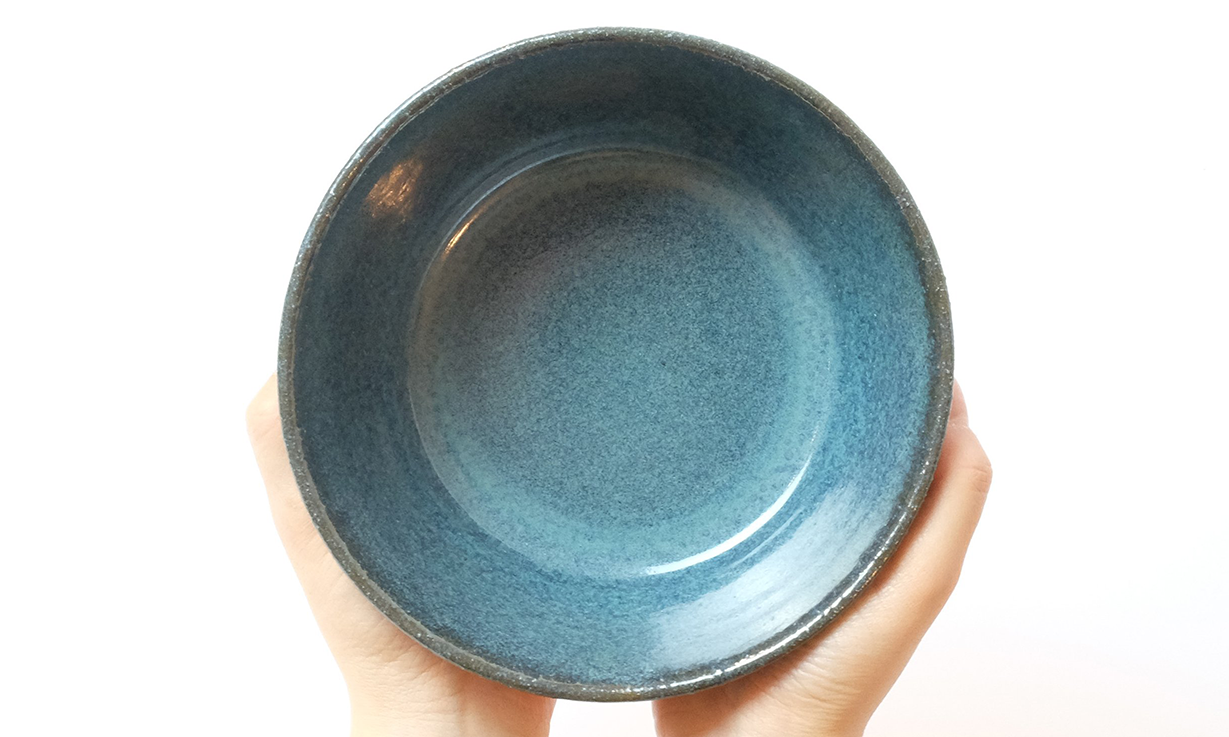 This month at wagumi, we have a collection of work by Japanese potter Motoharu Ozawa.
Based in the traditional Mino-ware pottery region of Toki in Gifu, the work of Motoharu Ozawa is characterised by its glazes that invite pairings with food.  
Another characteristic is its popularity.  In contrast to his unassuming personality, and isolated base in the Gifu countryside, are Ozawa's social media channels and the scrum that forms whenever he exhibits his pottery in Japan and nearby Asia.
This is the first time that Ozawa has shown his work in Europe, and we have a small selection of items available in wagumi Oxo Tower to coincide with our reopening from 16 June 2020.
The selection includes three of the main colour glaze styles that Motoharu Ozawa is known for.  An iridescent 'kingfisher' like jade-blue, a textured cream in the kohiki style, and a soft yellow shade referred to in Japanese as tanko.
These shades have their roots in Ozawa's explorations in food matching, paired with his technical proficiency in ceramics.  This skill was learnt in an area of Japan that is the country's largest for making pottery.  Gifu is known for its Mino-ware tradition, and the deep resources it holds in its soil, history and knowledge.
Born in Tokyo in 1974, Ozawa located himself in Gifu, as many others have, to seek a perfect environment for making ceramics.  Training at a local technical college and then through work at a ceramic house, he built the abilities to both shape pots on the wheel, and to decorate them with carefully created glazes.  Gifu gave him the capacity to both hold and achieve his vision.
From his workshop, Ozawa has developed his imagination in form, and in shade.  His 'rinka' series of small plates for example, is long-running and popular.  Its circular flower like motifs take on new character when presented in bold and subtle colours.  The aim he says, is to make shades that are 'not too beautiful', but are rather a supportive presence to the food or other items that his ceramics can be used to present.
While pursuing the solitary life of a potter, Ozawa is open about his working process.  He shares videos of each kiln opening via social media, and has built a following that ensures crowd control is needed at the ceramic shops that stock his work.
The bustling activity, contrasts the simple usability of the pieces he makes.  The addictive quality of Ozawa's pottery stems from its ease of application.
We do not have many pieces by Motoharu Ozawa in the display this time, but what we have will provide an introduction to his work.  Within our socially distanced space at wagumi Oxo Tower, there will be a chance to connect with his work, for as long as stocks last.
 Motoharu Ozawa