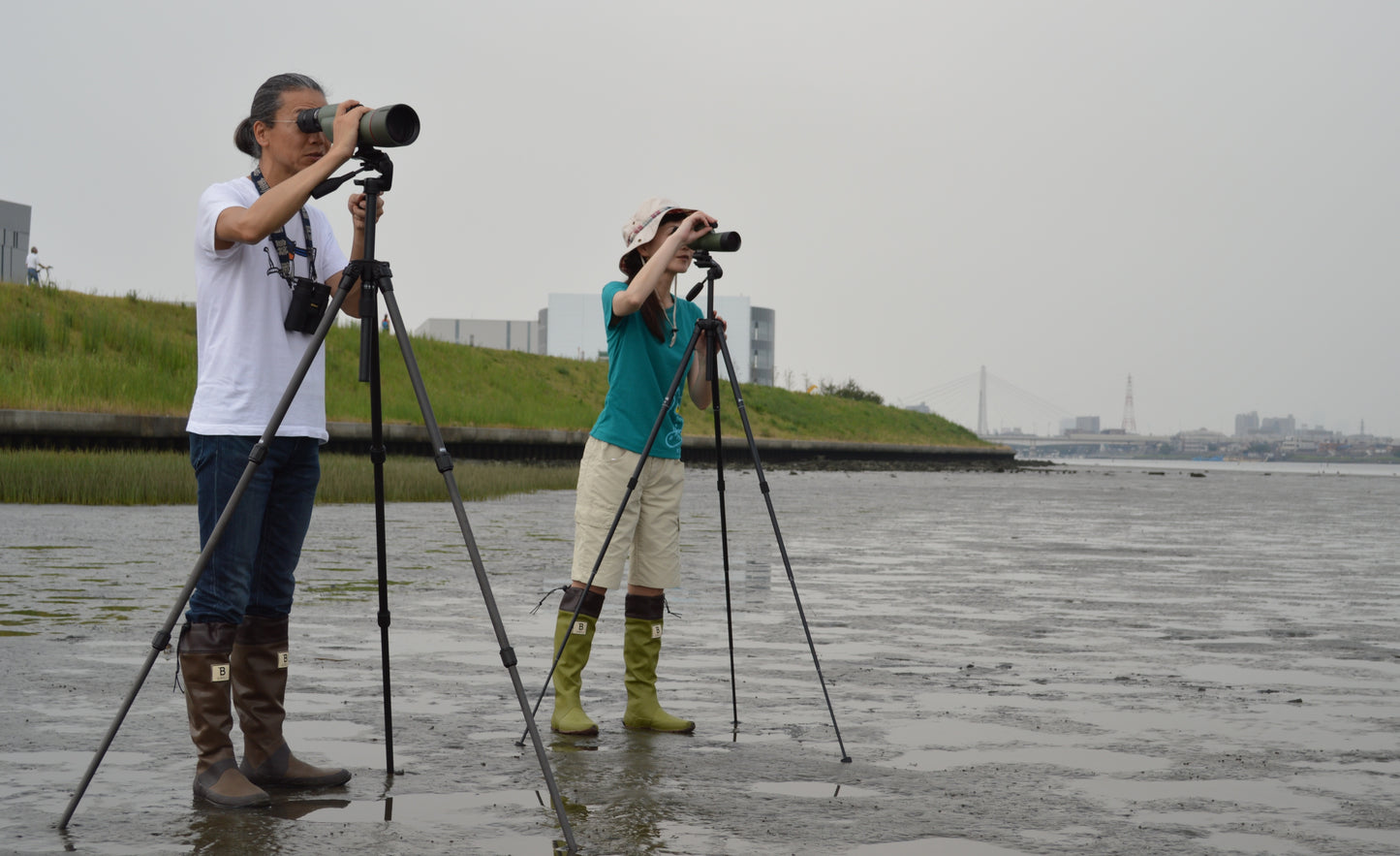 Earlier this year a Pacific Swift made an unexpected appearance in Aberdeenshire. A classic form in the Japanese summer sky, on spring migration it had somehow set out in the wrong direction and was found circling over Scotland. This was auspicious perhaps to the unusual migration we have also arranged from Japan, for late summer at wagumi. 
In their home country the Wild Bird Society of Japan are known both for their work in conservation, and more recently for their engaging range of design products. These present a timely combination of practical style, and concern for the natural environment. Scan Instagram a little on the WBSJ hashtag (https://www.instagram.com/explore/tags/wbsj/), and rather than pictures of Japan's fauna, you quickly discover images of Japanese, Taiwanese and Korean young people in wellington boots, often at music festivals - for which the footwear is extremely suited.
 A screenshot from the #WBSJ hashtag, and a pic from Fuji Rock
It is fair to say that as a conservation charity, the WBSJ are a little surprised by their status as fashion leaders. But the upside for the environment is large, as proceeds from WBSJ merchandise support their work preserving Japan's rich biodiversity. In particular, they are known for their efforts to prevent the extinction in Japan of the world's largest species of owl: the Blakiston's Fish Owl. A giant presence alongside fast running water within Hokkaido woods, this owl has suffered habitat loss as Japan's rivers were diverted and covered in concrete. The WBSJ purchases land to protect this habitat and monitors nesting sites to prevent the population falling below the current approximate number of 140 birds.
 The Blakiston's Fish Owl in Hokkaido
This is far away from the scene when we visited the WBSJ's Tokyo headquarters earlier this year. Walking along the ridged concrete banks of the river that trickles in constricted flow through the Nakameguro area of the west part of the city, it was possible to see pigeons, the stoic Spot-billed Ducks of tambo rice paddies now in an urban setting, and Japanese Tits in the small straight trees, alongside the design boutiques and restaurant extractors that line the route. Japanese wagtails darted from bank to bank.
The WBSJ had a short list of birds of Tokyo, together with their photographs at their front desk. The lineup in the world's largest city is maybe less extensive than elsewhere, but to see them is to paraphrase George Orwell: a pleasure available to everybody, which costs nothing.
WBSJ HQ, in Tokyo
From their Tokyo office the WBSJ manage their network of reserves across Japan, and plot new ways to prevent further destruction of Japan's natural environment. In post-war Japan the balance of power has frequently been against conservation groups with economic growth an all-crushing priority. At its worst Japan's construction state trounced the natural world in a way that surpassed reason, with interest groups benefitting from its process without regard to the outcome. The long battle of attrition to save the mudskipper fish of Isahaya in south Japan in the 1990s was symbolic within this, and maybe signified a change in attitudes. Environmental destruction was also a theme that underscored some of the Studio Ghibli animations of Hayao Miyazaki (the advancing pollution in the forest of Nausicaä for example), and it is perhaps natural that a generation raised with these films as their Disney, is now thinking again.
Previously at wagumi we have featured the moreTrees project of musician Ryuichi Sakamoto, and there are many other examples of similar micro-businesses sprouting up around Japan.
This is a context to the popularity of WBSJ's wellington boots. Walking in the countryside, watching an act at Fuji Rock, coping with an urban rain storm - but also making a small statement in favour of sustainable development in Japan. At the Tokyo office building that contains the WBSJ's HQ a steady flow of people ride the lift to their floor, and visit the small retail space next to reception. Here they find a carefully curated line up dedicated to recording and enjoying the variety of bird life in Japan. In the sense that the wildlife and landscape of Japan contributed vitally to its art and design, there is a symmetry to design products contributing now to return the favour.
Some Japanese birdlife in a woodblock print by Hiroshige
We first encountered this line up a few years ago, and it seemed a sharp counterpoint to the ubiquitous Robin drink coasters found in the UK. However the WBSJ are a conservation charity, and not a retail behemoth - and so have not exactly had international expansion on their mind. At present their products can be found in selected locations across Japan, and very few locations worldwide. It took a little effort to persuade them to come to Europe, and we based our appeal on our own London list of birds, a little similar to Tokyo's. From our window we can see Lesser Black-backed Gulls, Cormorants, Mallards, and more rarely a Peregrine Falcon flying toward tall buildings nearby. We hope that our 'to B' campaign of WBSJ products will now contribute to and reflect this environment along the Thames.