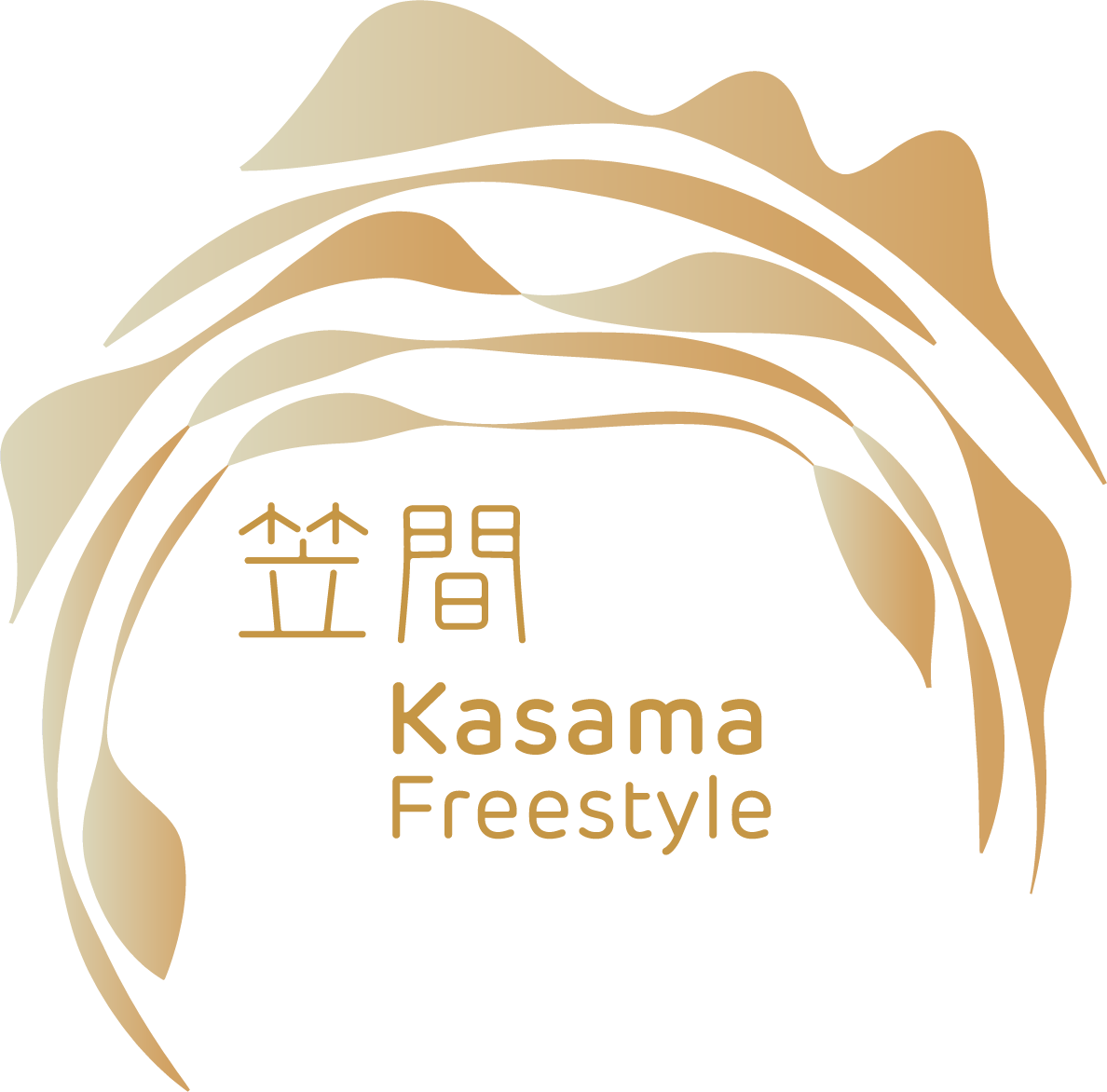 Kasama Freestyle at wagumi
At present at wagumi we have a collection of ceramics from Kasama.
Under the title Kasama Freestyle, it is meant as an introduction to the great work in pottery you can find in this town around sixty miles north of Tokyo.

Japan is full of pottery regions.  Each have their own characteristics, self-imposed restraints, and an idea of what you might find.  What is interesting about Kasama, is that it has none of these things.  Or rather that its characteristic is its sense of freedom.

The background to this is in Kasama's history, and its soil.  

The earliest potters in the region were farmers who turned their hand to ceramics in the late 18th century.  Kasama did not emerge as pottery centre until around one hundred years later, when alongside nearby Mashiko, the region became a supplier to the growing capital to the south.  

The foundation for its business was the red clay found in the soil.  Kasama's clay is a basis for beauty and a thing of frustration for those who work with it.  Well suited to shaping on a potter's wheel, its iron content allows for unique effects when fired.  However, in can also be fragile in the process of making. 

Kasama-ware hence had an earthy beauty, but was not always suited to mass production.  

Meanwhile in the context of Japan's rapid industrialisation in the early 20th century, new materials and techniques emerged to undercut the work taking place in Kasama and Mashiko.

From here on, the town's histories are interconnected and slightly different.  With the presence of the great master in 'folk crafts', Shoji Hamada, Mashiko developed in a direction influenced by his style and colour palette.

For Kasama however, things reached near crisis point in the early post war era.  With a dwindling number of pottery businesses, the town embarked on a conscious effort to attract ceramicists and would-be ceramicists to move to the region.  It built a training facility, provided accommodation, and in effect opened itself to creativity.

The scene that has emerged is of several relatively large pottery houses, able to produce to order for restaurants and shops - combined with a large ecosystem of individual potters and smaller works.

Some of the individual potters themselves trained at the pottery houses, and all come together during the popular Himatsuri pottery fair in the spring.

Time spent in Kasama can yield visits to ceramic galleries, showrooms and studios.   A large park houses the Craft Hills centre for making, and elsewhere the town's training facility has been upgraded to a ceramic university.

In common with some other areas of Japan, today craft is playing an important role in reinvigorating Kasama.  The vibrant ceramics scene is a reason to visit the town, and to live there too.  Handmade ceramics are at the heart of its identity.  

An interest in living sustainably, and healthily, and reconnecting with the soil - has motivated many Tokyo-ites to explore beyond big city life.  In this sense the creative community of Kasama seems ever more relevant, and ahead of its time.

A reaction to the dehumanising impacts of industrialisation partly inspired the Japanese arts and crafts movement in the early part of the 20th century.  

The legacy of this, and the vibrancy of its current form can well be seen in Kasama.

We hope that Kasama Freestyle presents a slice of this vibrancy, and the interest that can be found in Kasama's creative retreat.
Potters at Kasama Freestyle
Each of the Kasama potters featured has had an individual journey to ceramics in the town, and you can find below profiles based on our visits to meet them earlier this year.

They can be sorted loosely into categories, with representatives of Kasama's established pottery community such as Hiroshi Otsu, who is also head of the pottery union, as an example of the foundational influence of 'shokunin' craftspeople on the town.  More than anything he does not want this skill in craft to be lost.

Also there are pioneers from the early generation of individual ceramists who set up in Kasama such as Haruo Takahashi and Nobuhiro Hashiguchi.  In some cases they trained locally, in others they brought skills from elsewhere.  But at a time when becoming your own pottery business was not the typical career path, they had a sense a vision that connected with Kasama's openness to welcome them.  

Finally there are representatives of the so-called 'new wave'.  From the generation that reached adulthood after Japan's economic crash in the early 1990s, they were raised in a context where the old model of growth was being questioned.  Here a renewed interest in materials, craft and sustainability feels apt for the times, and is supported by a growing interest in ceramic homeware made by individual makers.  In this case many followed in the footsteps of the earlier generation of makers.  Good examples are Yamato Kobayashi and Mishio Suzuki, who both learned from leading Kasama potter: Akio Nukaga.
Hiroshi Otsu
"They have been telling us we should work with designers", Hiroshi Otsu's brow furrows as he contemplates the outlook for Japan's traditional makers.  The head of the pottery union in Kasama, Otsu's family business is one of the most historic pottery houses in the town.  Recognised by the government as a "dento kogeishi" (a traditional craftsperson) of particular quality, his own work stands out within the family showroom.  In another corner is a collection of 19th century Kasama-ware including functional suribachi mortars, and bowls for cookery.  Dull base colours enlivened by drips of azure glaze.  This is the lineage on which the Otsu family business is built, but there have been many challenges down the years.  It is fortunate therefore, that the traditional potters in Kasama have a flexible outlook.  Open to outsiders, Otsu and his union are keen first to maintain and encourage ceramic culture in Kasama.  His own work is founded of the skill of a craftsman.  Kyusu teapots made with quick precision, and finished in the bright glaze he spent years perfecting.  Surrounded by experimentation, Otsu's personal focus remains the time made quality of the craftsperson.

——///——

Mineko Nishimura
In the single story atelier that Mineko Nishimura shares with Yamato Kobayashi, little spaces of beauty stand out.  Just across from the deep genkan (lobby) for changing shoes, flowers arranged in a ceramic jug welcome the visitor.  Making these accompaniments to life, is what initially drew Nishimura to ceramics.  Her first interest was to go one step further in food presentation, and to make the plate on which her dishes were served.  Recently her focus is tea.  "Time for tea is a moment to breathe within a busy day… I like this time and I felt wanted to make something for it".  Nishimura's aim of achieving the right item for a moment, contrasts with the length of time it takes to complete her work.  Originally a student in glaze, to arrive at the feel and shade that she aspires to is no simple matter.  "I spent six months working on each, and I am not sure how many test pieces I have… it's still not quite perfection".  Within the boxes and fragments that pile up in the atelier, and the hours spent to perfect her craft; the plump, elegant forms of Nishimura's work offer moments to feel a sense of calm.
 ——///——
Yamato Kobayashi
An organised person, who traded the life of a company worker for one making ceramics, Yamato Kobayashi shares an atelier with Mineko Nishimura which they named "Keizan" or mountain gift.  This sense of gratitude to his material, enthuses what he makes.  While Kasama is a town full of those who travelled to establish themselves in ceramics, it is the place to which Kobayashi returned.  The son of a Kasama potter, he works in the local clay, which he describes as smooth and quick to adapt to shapes.  The easy contours of Kobayashi's work contrast with reminders of the soil that appear on its surface.   Less a matter of control, he cooperates with his material to achieve the finish he hoped might occur.   Kobayashi came back to his home soil after a brief salaried career, and entered training with the quintessential contemporary studio potter of the town: Akio Nukaga.  While hard to define, Kobayashi's explorations in his material and his kiln, have the character of Kasama ingrained in them. "There are lots of people here with different styles, and who came from different pottery regions originally.  There's an atmosphere that let's you do what you want".
 ——///——
Nobuhiro Hashiguchi
On a hill overlooking green rice fields, veteran Kasama potter Nobuhiro Hashiguchi works in the rich leafy shade of the Oribe glaze.  This is a colour associated with classic Japanese teaware, although Hashiguchi has it appear in many contexts.  Patterns that are also classic, such as the ichimatsu chequerboard motif or the tilted lines of yoroke-jima appear within Hashiguchi's work, but like his colour palette, never overwhelm it with a sense of tradition.  "I wanted to make something delicate, but this Oribe, this green, somehow reached out.  It's a strong colour… that seemed to act as a guide".  His journey to this style, and from his hometown of Nagasaki to this hill in Kasama - was one of accidental discovery.  Indisputable throughout was Hashiguchi's skill as a potter, and with the individuality of his thin black stripes and thick green patterns he is both emblematic of Kasama, and unlike anyone else working there.  

 ——///——
Marumi Kujirai

Like many others Marumi Kujirai moved to Kasama for pottery.  Her atelier doubles as her home.  Pottery detritus invades her living space.  Surrounded by the physical output of her mind, Kujirai finds it hard to explain how she arrived at each piece.  "Looking in the library at pottery styles from around the world, I somehow felt these shapes could be something new with Kasama's clay".  On the surface of her work are interacting mats of the glazes, and drips to the centre.  Milk jugs with upturned lips, squat fat teapots.  Each piece expresses its identity on the table, and is marked by Kujirai's inexplicable explorations in Japanese and western forms.  Her work is supported by a base in Kasama, by the pottery fairs and ceramic culture all around, and not least by the understanding landlord who allowed Kujirai to station her kiln.  Her first name, made as it is of the characters for 'circle' and 'beauty', maybe hints at destiny in pottery.  But the important context to its realisation is Kasama.
——///——
Haruo Takahashi 
With hindsight Haruo Takahashi was something of a visionary.  His move to Kasama pre-dated the current trend for studio pottery by some time.  "When I came here I think there were only about six of us.  You have to respect the openness the existing pottery works had when we set up".  A surfer, the atmosphere of the local pottery scene matched well his free spirit.  Originally from the wider region, Takahashi in fact learned his craft in Japan's far south, in Kagoshima.  Returning to seek a base, quite unintentionally Takahashi became an early pioneer of Kasama's new wave.  His work is shaped by his early training, and uses a variant of the 'namagake' technique of applying glaze on to slightly wet clay.  A complex drying process, an initial low temperature firing and a feldspar, silica and ash glaze mix that emphasises the revealed texture of the clay - are all elements that go to make his ceramics.   A forebear to much that came, in typical Kasama fashion Takahashi's pottery remains distinct.  
 ——///——
Mishio Suzuki

The freedom in Mishio Suzuki's work comes from several sources.  One is the harmony and difference in Japanese tableware itself "a good thing about it, is you don't have to buy 12 of the same thing.  There is not that restriction, and no need to match colours on the table.  Everything is separate, but somehow connected.  I think it matches a Japanese way of thinking". Another, and the most important, is the freedom of her imagination.  Initially impressed by German product design, time spent living there in fact enhanced her appreciation of Japanese ceramics.   Looking for something outside, Suzuki in the end found inspiration by looking outside in.  The Kasama of childhood visits recalled in her memory, she entered training with the contemporary master Akio Nukaga.  As for many Kasama potters her creativity finds its free reign in the pottery studio at the end of her garden.
——///—— 
Tsuneko Sasaki

Tsuneko Sasaki's work in pottery began as an escape.  A company employee in the late 1990s, she traded her office for the pottery community in Mashiko.  Her early career in ceramics was spent here, in a classic location for folk art pottery.  Kasama is a short drive from Mashiko and their pottery scenes converge in many ways.  But there are differences too, and while she says it in a quiet voice, Sasaki regards Kasama's style as slightly less restricted.  She moved to Kasama in 2006, and now has a studio overlooking rice fields alongside her husband, the glass artist: Yoji Sugiyama.  She marvels slightly at his working process "Making glass, you can not touch it, and have to use gravity and rotation.  This is different to ceramics, as is the time it takes. Glass just needs to cool, ceramics need time."  A family occupied in making, Sasaki is an experienced potter with an established style.  Her forms are modern and smooth, but retain the subtle aspect of being handmade.  The clean lines hold an embedded element of humanity, perhaps similar to that which drew Tsuneko Sasaki to her new life.
——///——
Keicondo

Opening on to a wooded field, the sound of bush warblers enters the studio of Keicondo.  Inside it are letter shapes, photographs, pottery offcuts and other fragments of inspiration.  The potter himself is affable in every respect as he discusses his journey to this spot.   A year spent in Bolivia, a brief period working in a firm marketing concrete… before a realisation that the opportunity presented by Kasama's pottery scene was too good to turn away from.  "There is something here that you can not find in other places" he says.  This does not mean that all was easy, and time was not needed to develop his distinctive style of fire singed yellows and blacks.  Especially suited as a canvas for food presentation, Keicondo has built a particular niche supplying ingredient focussed bistros.  The kind that serve natural wine.  His travel in ceramics in some ways mirrors that of his father, an Ethiopian ceramicist who made his home in Kasama.   This, he says typifies what the town is about: "for someone to come from outside, and in Kasama to present work as Kasama-ware, seems like it might be an easy thing, but I wonder if 30 years ago there were many places like that.  I haven't heard of it".  Kasama is Keicondo's home.
 ——///——
Aya Kondo

The work of Aya Kondo comes from a quiet obsession.  A brief career as a public employee, and then time spent travelling in Asia led her eventually to pottery training in Mashiko.  In 2001 in nearby Kasama, she established her own kiln, enveloped by nature.  As the years pass, so has there been a gradual evolution in her style.  A key element remains detailed arabesque patterning which she achieves by hand painting slip using a dripper.  More recently Kondo has added deep moss green, Oribe type glazes in a patchwork alongside her trademark sweet yellowish brown.  An important figure in the Kasama pottery scene for most of the last twenty years, Aya Kondo's ceramics are a kind and refined presence in homes all around Japan.
——///——

Takahiro Manome
 A winding road on a mountain side that slowly becomes too narrow for a car to pass, Takahiro Manome is in one sense isolated.  In another, he is integral to the current generation of Kasama potters.  The impetus to connect Kasama's sometimes disparate ceramicist community came from the earthquake of 2011, when from his mountain side Manome drove an initiative to repair the town's kilns.  Slow and deliberate in his speech, Manome's context in his distant atelier full of art books and pottery shelves, has perhaps left him a little unaccustomed to interaction.  But his work, like his other initiatives to connect, shows a spirit of exploration, and an essential friendliness to its user.  It balances an elemental sense of its material, with soft glazes and sensitive forms.  Involved in a slow process of innovation, as time passes Manome's ceramics have grown new forms: a new pink glaze slightly inspired by Lucie Rie, his trademark bird logo on cups, plates, as a magnet, a bud vase… "I am inspired by what I see in Kasama, and from all around. I think I am making something somewhere between Japanese and western styles." A kind presence in the Kasama pottery scene, the work of Takahiro Manome can take a similar role in the home.