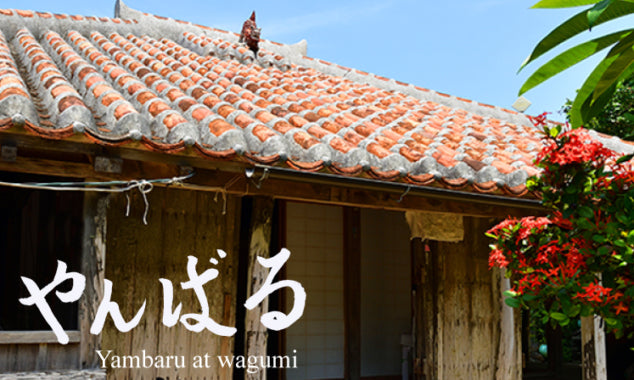 The Okinawa islands are a land of culture and craft, more than 600km south of Japan's larger archipelago.  This summer we have been featuring some of the many great things made there, including ceramics, glass, textiles and music.  
Where to go to find the true Japan?  For some intellectuals in the early 20th century, the answer was to its extremities.  Here, in places, such as Okinawa the spirt of craft and creation had survived the effects of industrialisation found elsewhere.
Today too, the islands offer a different vision to other places in Japan, of a way of life, and what it is to make.

Okinawa's history is as an intersection in east Asia.  In its period as the independent Ryukyu kingdom it was a tribute state, and influenced by larger neighbours.  The islands were finally incorporated into Japan, but again fell under external influence with the occupation by American forces in the early post-war era, and the continued large presence today.  The result is a complex history, with an engaging and varied culture.

Continuous throughout is natural beauty, and the spirit of people on the islands.

A home for crafts, Okinawa is perhaps particularly known recently for its ceramics.  In some periods thought by Okinawans to be inferior to imported wares, visitors have historically begged to disagree.
Okinawa is a place where Chinese and south-east Asian ceramic styles, met the techniques brought by the Japanese and Korean masters who travelled from Kyushu to the north.
The modern ceramic history of the islands is divided into two streams, the unglazed 'arayachi' which was used to contain awamori spirit and fulfil practical applications, and the painted 'joyachi', which makes for attractive tableware.
Today most of Okinawa's pottery output is joyachi, with the influence of 20th century master potters Jiro Kinjo and Jissei Omine, looming large.  Okinawan pottery overall is known as 'yachimun' (the local dialect reading of yakimono, a Japanese word for pottery), and has its character in the particular shade of blue in its glazes, and the dedication to materials.
The centre of ceramic creation in Okinawa was in one period the Tsuboya region of the capital Naha.  However, the growth of this city made the regular firing of ceramics unpopular, and many of the leading potters (including Kinjo and Omine) moved themselves in Yomitan, a little to the north.  Here the climbing kilns built are some of the largest in Japan, and the practices skilled and rooted in tradition.
This summer we are featuring some work both connected to and inspired by this movement.  We have some items for example by Minoru Chibana, who himself once a pupil of Jissei Omine, has with his family carved out a piece of jungle close to the main Yomitan pottery area.  Here as Yukutaya-gama, they make work that tilts toward the most traditional processes in local pottery.  Chibana collects clay by himself, and kneads it with his feet.  The glazes are made using husks from the island's comparatively few rice farmers, and all is fired in a self-built climbing kiln. 
The large, adjacent Kita-gama kiln in Yomitan, acts in many ways as a training facility for new and aspiring potters from all around Japan.  Some of its alumni have been involved in creating another centre of pottery in the north of the island.  This region is known as Yanbaru, and is hilly and comparatively wild.  
Maiko and Masatoshi Tamura met while training at Kita-gama, and since 2010 have operated their own kiln in Ōgimi in Yanbaru.  Their work shows their patience and love in acquiring the skills of Okinawa's Yachimun.  They produce bright renditions of traditional Okinawan forms such as makai (small bowls with large bases), wanbaru (larger bowls) and chu-ka (teapots).
Also based in the Yanbaru region is Toru Yonashiro, and his Yachimun Yonashiro kiln.  While categorised within the new generation of Okinawan potters, Yonashiro has ten years of training behind him, with five years spent working in Tsuboya, and five in Yomitan.  From his new base in the north of the island he hand throws his interpretations of Yachimun forms, before firing them in his self-built kiln.  Yonashiro's glazes are controlled blazes of colour and when applied in styles such as ten-uchi (brush painted dots), are perhaps what marks him out most as an accomplished new fixture of the Okinawan pottery scene.
In some ways the most traditional and elemental of all in this scene however, is New Zealander Paul Lorimer.  From his base in Motobu, also in the northern part of Okinawa, his work is an exploration in the base material of the island's ceramics: its clay.  A technician in making kilns, and seeking out the best clays - Lorimer has sourced around 15 distinct types on the island.  These he throws, and then fires in the anagama style kiln he built.  Sometimes glazed, but often not, his work offers a brilliant chance to connect with the soil of the island.
With lone craftspeople and studios dotted around the main island, Okinawa is also known for its tradition in glass making.  The bright colours of Ryukyu glass, as the island's produce is known, reflect natural forms, and encase the light from the sun.  This glass is often also 'saisei glass', a 'reborn' material, taken from reused drinks and other bottles.  Crafting new beauty from the detritus left by military bases, has a symbolism within the island's post-war history.  It is also practical, as recycled glass hardens more swiftly once blown, allowing the skilled craftsperson to quickly complete their work (although catching out those unable to work with speed).  

Kiyoharu Matsuda is one such experienced glass craftsperson in Okinawa.  Working with glass since the day he left school, he has journeyed through studios and makers with different techniques.  His Glass Studio Seiten, in Yomitan, north of Naha, is the current base for his operations and the place where Matsuda practices and shares his skill.  From the broken parts of cola or ramune bottles, Ryukyu glass craftspeople melt, and then blow to create a ball at the tip of the poles they use.  This ball is the essential element in the work. Maintained, and then shaped - a glass worker such as Matsuda can in swift motion make the bright, natural forms that represent his studio.
Ryukyu glass has become an art form, and the drinkers of the island's awamori spirit, often do so from richly coloured vessels.  Heijin Yaga, at his Glass Studio Hiro, is an exponent of colour in Okinawan glassware.  Colour, and light.  His range of 'bubble glasses' for example, make a feature of the pockets of air twisted and retained during the process of hand blowing.  These create contrasts in light with the range of blue and purple shades that Yaga has developed with inspiration from local nature.
The recycled materials used for Ryukyu glass, tell a story about the island's recovery after the second world war.  The only land battles on the territory of present day Japan took place on the southern islands, and left immense destruction.  From this low point, new spirit in craft emerged, and sometimes fought to survive.  The efforts to preserve the island's tradition in weaving with banana thread are one such example.
Already on the wane amid the new trends and techniques of the early 20th century, the war lead to the clearance of many banana plants for harbouring a malaria risk.  The lightweight fabric, dyed and weaved into patterns that hint to motifs from island life, almost became an historical item.  Long heralded by the movers within the early-mid twentieth century mingei movement that celebrated folk crafts, some leading figures supported Toshiko Taira and her group in the north Okinawan town of Kijoka in working to keep bashofu (banana thread) fabric alive.
Taira herself is now 98 years old, and a designated living national treasure.  She is mainly interested in accolades so long as they support her life mission to continue the practice of Okinawan bashofu weave.  With a relatively stable supply of natural resource, which Taira and collaborators of a similar age still cut by hand as the plants tower above then, the challenge is to now maintain the human skills to make, treat and then weave the fabric.
Bashofu, like other crafts on Okinawa today, is alive, and evolving.  A region that in spite of everything, maintained its link to the past, is a inspiration to many in suggesting a future that is sustainable and rich.